Beyond the Streets
Roger Gastman, Caleb Neelon, and many others
2018
Coming in at 500 pages and weighing a whopping 3.6 lbs. - BEYOND THE STREETS is the companion book to the groundbreaking exhibition of graffiti, street art and beyond. It features over 100 artists, most of whom would have stolen it at one point in their careers. A few of them still will, just because they can.
This book is a good steal, so you can't really blame them. It features countless stories, interviews and articles of ups and downs, twists and turns, tall tales and great success, mixed in with some historical and critical essays and words of wisdom from the best of the best of the best. And for those of you who don't like to read, there are over a thousand images to flip through and make yourself feel smarter.
You can get it HERE

WALL WRITERS : Graffiti in its Innocence
Roger Gastman, Caleb Neelon, Trina Calderon, and Chris Pape
Gingko Press, 2016
Wall Writers explores graffiti s eruption into mainstream society in the period of social turmoil in the late 1960s and early 70s, and takes a closer look not only at early graffiti s place on the wall but its place in the culture of the time. More comprehensive than any other book on the subject, Wall Writers explores not only early graf writing itself but the writers creating it, the new technology of spray paint that made it possible, and the culture that drove them to write be it a need to rebel against the government, to pass a message, or simply be recognized by society. Hundreds of images of everything from spray paint advertisements to commercial greeting cards to images of buildings completely covered in spray painted monikers are included, and reveal the context of the beginnings of a movement that would eventually grow to transform city life, public transit, public art, and ultimately visual art the world over. Includes interviews and profiles of some of the most prolific writers of the time, including TAKI 183, Cornbread, and dozens more.
Get it HERE
History of American Graffiti
Roger Gastman and Caleb Neelon
HarperCollins, 2011
Unprecedented in scope, The History of American Graffiti is the definitive story behind the most influential art form of the last one hundred years. Tracing the evolution of the medium from its early freight-train days to its big-city boom on the streets of New York City and Philadelphia, and to its modern-day influences, this volume is a compelling look at the key moments, places, and players in an art form distinctly American in flavor yet global in its reach.
Featuring behind-the-scenes stories and profiles gleaned from more than four years' worth of interviews with graffiti's most prominent names, as well as its lesser-known pioneers, authors Roger Gastman and Caleb Neelon provide an insider's perspective on the history of the medium. Not only do they reveal the most popular trends and styles that have dominated the scene for the last fifty years but they also provide a thorough examination of the regional differences among major American hubs—New York, Los Angeles, the Bay Area, Chicago—and under-the-radar scenes in cities like Washington, D.C., Boston, and Miami. All told, more than twenty-five American cities are profiled, making this one of the most comprehensive volumes on the subject.
With more than one thousand photographs—the majority of which are seen here for the first time—from more than two hundred photographers, most of whom also created the artwork, The History of American Graffiti captures the look and feel of a genuine American art form with exceptional clarity and detail. An instant classic, this book is the ultimate resource to which aficionados of the art form will turn again and again, and which the uninitiated will regard as the definitive tutorial of all that is graffiti.
Get it HERE
Pump Me Up: DC Subculture of the 1980s
Roger Gastman, Caleb Neelon, Iley Brown, and Joseph Pattisal
R77, 2013
Pump Me Up: D.C. Subculture of the 1980s explores the thriving underground of Washington, D.C., during the 1980s, giving visual form to the raucous energy of graffiti, Go-Go music, and a world-renowned punk and hardcore scene.
This book, which serves as the catalog to the corresponding exhibit at the Corcoran Gallery of Art, explores the visual culture of the "other D.C.," demonstrating its place in the history of street art as well as that of America's capital city. The book traces the history of graffiti in Washington while emphasizing its inextricable ties to the burgeoning forms of local music, including Go-Go and hardcore punk.
Compiled by Roger Gastman with Iley Brown, Caleb Neelon & Joseph Pattisall
Get it HERE
Ed Emberley
Todd Oldham and Caleb Neelon
AMMO Books, 2014
Ed Emberley shies away from calling himself an artist and instead likes to say that "he draws pictures for a living." Now in his eighties, Ed Emberley is a Caldecott award-winning children's book illustrator and writer who has been creating original books since the 1960s. He has written and illustrated more than 100 books and is perhaps best known for his beloved how-to-draw books for kids such as: Ed Emberley's Big Green Drawing Book, Ed Emberley's Drawing Book of Faces, and Ed Emberley's Great Thumbprint Drawing Book, and many others.

These simple and straightforward books, first published in the 1970s, have encouraged a generation of kids to take the drawing process step by step. Contemporary working artists today often cite Ed Emberley as a beloved early inspiration in their development as artists. By encouraging kids to draw using just a few simple shapes, Emberley has made drawing and creating accessible to everyone. As Emberley likes to say, "Not everyone needs to be an artist, but everyone needs to feel good about themselves."

This definitive monograph on the wide repertoire of Emberley's life's work has been beautifully put together by Todd Oldham and Caleb Neelon. Highlighting work spanning over five decades, this gorgeous and comprehensive book celebrates the talented and prolific life of Ed Emberley.
Get it HERE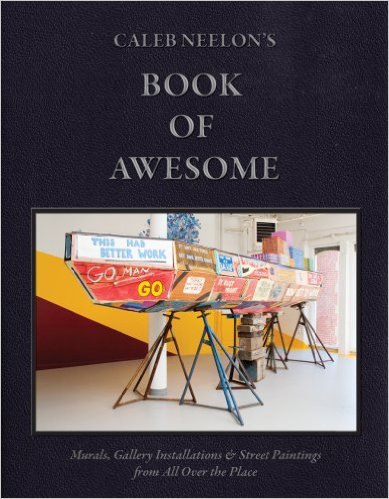 Caleb Neelon's Book of Awesome
Caleb Neelon
Gingko Press, 2009
Artist and author Caleb Neelon (SONIK) began his graffiti career like anyone else, but the Cambridge, Massachusetts native took a hard right and caught a flight out of town. Deliberately ignoring the obvious global centers of New York, Los Angeles, and London, Caleb painted subject matter close to his heart while making a street presence in places like Kathmandu, Sao Paulo, and Tegucigalpa. Across, around, and in between five continents, indoors and out, Caleb has pulled off some unique, colorful, and heartfelt work both alongside collaborators like Os Gemeos and Andrew Schoultz, as well as in streets where he is the first foreigner let alone street painter to wander in quite some time. Featuring heartfelt travel stories going beyond the artwork to the socio-political situations that surround them, as well as the large-scale gallery installations of Calebs from venues such as the Boston Center for the Arts, Caleb Neelons Book of Awesome provides an overview of the work of this diverse and distinctive artist
Get it HERE
Street World: Urban Art and Culture from Five Continents
Roger Gastman, Caleb Neelon, and Anthony Smyrski
Thames and Hudson, Abrams, National Geographic, 2007
Ever since hip-hop and punk music rose from the ashes of urban blight to become two of the most potent youth culture movements of the twentieth century, the world's streets have taken center stage as vibrant sites of creativity. And in less than a generation, thanks to ease of travel and the Internet, a new global street culture has emerged, bringing all of the world's diverse subcultures and modes of urban expression together: graffiti, skateboarding and bike messengering, DJing, offbeat fashion, gang life, music, as well as design, photography, and other more traditional visual art.

Street World: Urban Culture and Art from Five Continents is the first book to record the whole phenomenon. From New York and Los Angeles to the Brazilian mega-cities, South African townships, and Mumbai, authors Roger Gastman, Caleb Neelon, and Anthony Smyrski highlight cultural hotspots around the world. Divided into more than 50 topics and illustrated with more than 500 photographs, this book celebrates the street as a stage for the visual creativity of a generation.
Get it HERE
Graffiti Brasil
Tristan Manco, Caleb Neelon, and Lost Art
Thames and Hudson, 2005
From the startlingly distinctive achievements of the internationally renowned twin-brother painters Os Gemeos to the visual powers of the ubiquitous daredevil Pichadores, Brazil's graffiti captivates with entirely fresh ideas, techniques, and messages. Whether one's taste is for the extraordinary creative extremes generated amid urban deprivation or for crafted murals at their most elaborate, Graffiti Brasiloffers both stunning photography and in-depth history and insight.

Graffiti Brasil is the result of collaboration across three continents. Tristan Manco is from England, and is the author of the best-selling Stencil Graffiti and Street Logos. Caleb Neelon (SONIK) is an artist and writer from Boston, who has been traveling to and painting in Brazil since 1997. Ignacio Aronovich and Louise Chin are "Lost Art," and have for many years documented the streets of Brazil from their home city of Sao Paulo.

With graffiti worldwide becoming more homogenized, this book is a reminder of the strengths of creative independence and the rich fruits of cultural diversity. 440 full-color photographs
Get it HERE
books gallery